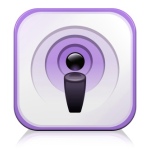 This week we aim for the record books with the shortest podcast ever, then bottle it at the last second. We discuss the various intricate plot twists and character development in the deeply thought provoking "Transformers: Rise of the Fallen", and we find out what films scared our listeners when they were children.
In the news, we hear from the right side of our heads and in the top tip we find out how to rent stuff for free! We also officially launch our campaign to bring back the Marathon bar.
As well as all that Nick has a rant about the discriminatory nature of doormen and Rob reveals all about his haunted lampshade!
The Dead Air Podcast Episode 32